Message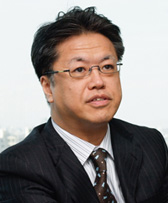 Message from CEO
We make full use of computer technology and IT system to solve the managerial problems of companies. We as a corporate's doctor / general hospital, through our doctor's network, aim at providing diagnostic service for these problems.
In the 21st century, the key to improving corporate management system is in quality and performance of IT system that can prevent the conventional-type stagnant and costly organization system. But in reality, this type of IT system has become one of the main issues for most SMEs. We as "SMEs' IT doctor", by diagnosing these kinds of issues of a company, aspire to become a leading System Integrator in the world class. While carrying out appropriate measures involved in IT System, we work in solving these problems by focusing not only on treatment but also on prevention.
The field of our work being broad, we contribute to systematization of various operations along with development of system parts of latest technology and matching regardless of internal and external environment. We provide unique product, technology and service with the aim of achieving license certifications and promoting future-oriented value-added flexible product development. Furthermore, we have introduced ourselves in advanced technological fields such as digital contents, internet, multimedia, mobile phone, fingerprint authentication, voice recognition, CRM, ERP, etc and are continuously conducting research and development and creative inventions.
In addition to the knowledge and technology required to be a professional in all processes of system development, we focus on OJT such as consulting, presentation, documentation, communication, etc. To foster the growth of IT doctors as genuine professionals, we have our original education and training programs. Moreover, along with focus on business elements such as environment management, information security, intellectual property rights, etc, we promise to provide sound social contributions in all directions through thorough management activities.
Chief Executive Officer Takashi Sakurai

Copyright © SakuraISM All Rights Reserved.
※SakuraISM is the general term for XON Holistic Matrix Group Management Concept